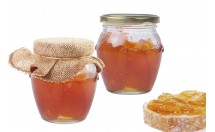 Sweets
In vaza.gr you can find a big variety of jars in different shapes and patterns, especially for packing your sweets.
Pastry shops, individuals, housewives surely can find something to fit their needs.
Beautiful and affordable glass jars for packing sweets, marmelade, honey, cheescake, candies etc.
The jars can also be used for social events for treats, decoration or even for decorating your wedding favors.