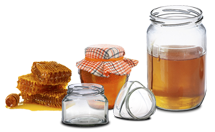 Honey
If you are a beekeeper you are at the right place.
You will find the whole collection of glass honey jars ready to ship at the most competitive prices of the market. Their capacity is from 30 ml to 2650 ml. If you want separated glass jars, you surely are at the right place because you will find a lot of interesting suggestions.

In addition, we have the bigest variety of aluminium caps. Except for the clasic colors, we have inprinted themes about honey, like bees or honeycombs.

Lastly, in our shop you can find honey dippers 10 or 14 cm.